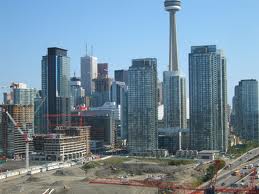 Record growth is not in the foreseeable future of the condo market, but it is also likely the sector will be able to avoid a major downturn, according to the latest Conference Board of Canada condo report released by Genworth Canada.  While markets in major centres such as Vancouver, Montreal and Toronto have been of particular concern, The Summer 2013 Metropolitan Condo Outlook suggests population growth and employment gains will help maintain demand levels to absorb supply inventory.
"Whether it's first-time homebuyers entering homeownership, empty-nesters looking to downsize or professionals seeking a shorter commute, condos appear to remain a popular option for urban Canadians," said Brian Hurley , Chairman and CEO of Genworth Canada.
The Report notes economic factors affecting the housing market, such as employment, interest rates and population growth, will only undergo moderate changes. Employment is expected to rise modestly in the medium-term and interest rates are expected to increase gradually, while population expansion and demographics will continue to support demand in regional markets.
"As condo starts near past averages and inventories edge closer to demand, we are seeing the condo market stabilize both in terms of the price of existing units and the volume of new construction," said Robin Wiebe , Senior Economist at the Centre for Municipal Studies at The Conference Board of Canada.  "Softer prices and positive economic factors continue to make condos an affordable way for Canadians to achieve homeownership."
Regional Highlights
Québec City's condo starts will start to return to long-term average, with average resale prices expected to show a moderate rise of 1.1 per cent in 2013 and 1.9 per cent in 2014, which will allow demand to increase until 2016 as it catches up with supply
Montréal's steady economic growth and aging population will bolster unit sales, but volume growth is expected to be a modest 1.4 per cent per year from 2015 to 2017
Ottawa's regional economy is still feeling the effects of government spending cuts which weakened demand and slowed price increases, but economic growth expected in 2014 will help increase demand and unit sales by about 2.5 per cent per year from 2015 to 2017
Toronto's inventory of completed and unsold new condominiums was up in 2012, so builders are expected to pull back from the market in 2013 and 2014, but a stable economy and population growth are expected to bring builders and buyers back to the market by 2015
Calgary starts will be hampered in the third quarter by the flooding earlier in the year, but as the "youngest" city in the survey, it is expected to enjoy the highest growth in starts and resale volumes in 2014, with price growth at a moderate level of 2 per cent to 3.5 percent over the next few years.
Edmonton inventory levels will become more balanced, with the median price expected to rise slightly in 2013 – the city's first gain since 2007
Vancouver remains the most expensive housing market in the country, but condos remain an affordable option. It's expected to continue to be a buyer's market in 2013, with sales and prices picking up in 2014.
Victoria faces the greatest challenges with the lowest number of starts among the report's eight cities and no growth in resale prices or sales until 2014. Despite its mild climate and attractive surroundings, a high inventory of unsold new units and constrained demand due to a soft economy will continue to cause drag on the condo market in Victoria
Resale prices for condos are expected to rise next year in all eight cities studied, with Calgary showing the largest growth of 3.3 per cent and Vancouver, following two years of price decline, growing only 1.4 per cent.
Average Resale Condo Price by City: Forecast
City
2012
2013f
2014f
Québec City
$220,860
7.4
$223,363
1.1
$227,575
1.9
Montréal
$267,175
4.0
$265,344
-0.7
$271,899
2.5
Ottawa
$271,331
3.8
$272,282
0.4
$280,626
3.1
Toronto
$305,350
1.5
$305,239
0.0
$310,242
1.6
Calgary
$244,362
3.0
$251,237
2.8
$259,640
3.3
Edmonton
$210,577
-1.2
$214,680
1.9
$220,743
2.8
Vancouver
$366,263
-1.7
$364,593
-0.5
$369,527
1.4
Victoria
$268,633
-6.5
$264,180
-1.7
$273,783
3.6
Italics indicate percentage change from previous year.
Sources: The Conference Board of Canada; CMHC Housing Time Series Database; Canadian Real Estate Association; Québec Federation of Real Estate Boards. Average resale prices are used for Québec City and Montréal; median resale prices are used for the rest of the metropolitan areas. Resale and average prices in Montréal and Québec City include all condo styles, not just apartments.
Source: Genworth Canada