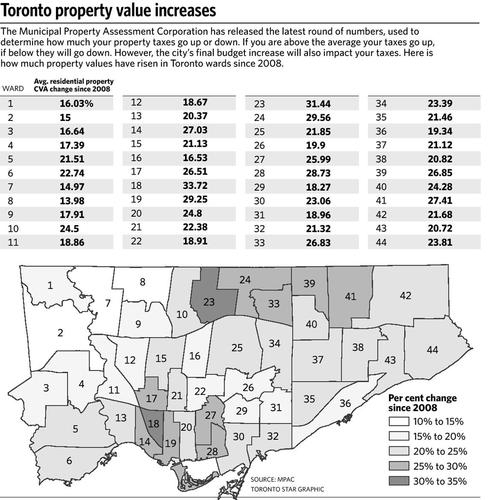 Homeowners in the Davenport and Willowdale neighbourhoods will likely end up paying more property tax next year, based on recent assessments.
But they're also the neighbourhoods with the highest increases in property values.
"Our values are consistent with the trends and patterns in the real estate market," said Joe Regina, with the Municipal Property Assessment Corp. which assesses properties across the province. "These are generally in high demand (and) it's outpacing their supply."
Parkdale-High Park, Trinity-Spadina, Rosedale, Davenport and Willowdale all came in well above the average 22.8-per-cent increase in the value of city homes since 2008.
The assessments, which are done every four years, will be used to calculate property taxes in 2013. To cushion the impact, the increased assessments are phased in over four years, with the average assessment going up 5.5 per cent per year to reach the full amount in 2016.
The key to determining a tax bill is where a property ranks with respect to the average in the municipality. If the increase in assessment has been above average, the homeowner will see a tax increase; if it's average there will be no change; and if it's below average, the resident will get a tax decrease.
Homeowners in hot real estate neighbourhoods are at highest risk of seeing their property taxes go up in 2013.
Davenport ranked highest out of Toronto's 44 wards with an increase of 33.72 per cent. Wards 23 and 24, both in Willowdale, were the next highest with 31.44 per cent and 29.56 per cent increases, respectively.
Property assessments in Trinity-Spadina rose 29.25 per cent, Rosedale jumped 28.73 per cent, and Parkdale-High Park was up 27.03 per cent. Rouge River in Scarborough recorded a 27.41-per-cent jump in assessed value.
Wards in North Etobicoke, Centre Etobicoke and York West were well below the average. Assessed value of York West properties increased 13.98 per cent (Ward 8) and 14.97 per cent (Ward 7). In Etobicoke North they rose 15 per cent (Ward 1) and 16.03 per cent (Ward 2), while Etobicoke Centre wards increased 16.64 per cent (Ward 3) and 17.39 per cent (Ward 4).
Due to the variety of buyers in the market it's hard to pinpoint what areas will be hot, however neighbourhoods in the vicinity of the subway lines are popular for first-time buyers, said John Pasalis, president of Realosophy Realty.
"These areas are most affordable," Pasalis said. "Neighbourhoods like the Dovercourt area, they'll be popular.
An area with houses around $600,000 or close to downtown and near the subway will be in high demand, Pasalis said, adding some areas in the east end, like Leslieville, remain affordable, but he imagines that won't last long.
The Toronto Real Estate Board home index lists the Junction Triangle/High Park area as having the highest increase in house values measured over five years — not four, like MPAC — at 41.77 per cent.
Pasalis said "blue chip" areas will remain in high demand for second-time buyers and families looking to upgrade and focus on quality schooling.
"Davisville, Riverdale, the Beach, they're still within reach for most second-time buyers," he said. Houses in the $750,000 to $850,000 range are still available to dual-income families with kids in those areas, he added.
Sales in condo-centric areas like Liberty Village and City Place will slow in the coming years, Pasalis said.
If the market cools and prices begin to dip, condo owners looking to upgrade to something bigger might be caught in a tough spot, he said.
"Some young condo owners are buying houses first before selling their condos and they end up being in a pinch if it doesn't sell on time," he said. "It's already starting to create challenges for some people, and I think that's going to continue.
Source: Toronto Star