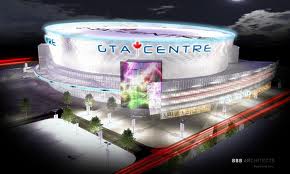 Markham will proceed with a controversial plan to use taxpayer money to help fund a $325-million arena — and possibly attract an NHL team.
After a sometimes emotional meeting involving more than 500 residents over seven hours, Markham council voted 7-6 against a motion that would have ended a unique cost-sharing arrangement with GTA Sports and Entertainment and its financial backer, Remington Group, for the landmark project.
"I feel it's a work in progress," said Councillor Carolina Moretti, who rejected the motion and supports the project's so-called "financial framework."
"It's not etched in stone. We are still working on it."
Councillor Howard Shore, who also supported the continuation of the arrangement, added there is still a lot of work before the city decides to proceed with the project in the new downtown at Highway 407 and Kennedy Road. The city hasn't negotiated any agreements and will want assurances to protect taxpayers, he noted.
The vote has attracted widespread interest of both fans and the sports industry because of the prospect of another franchise in the world's biggest hockey market. However, it has also raised public attention about the issue of whether taxpayers should be supporting venues for professional sports franchises.
Markham council had overwhelmingly favoured the cost-sharing arrangement last year. But public support had eroded because of fears that it would expose taxpayers to losses without a revenue-producing NHL tenant.
Mayor Frank Scarpitti, a big supporter, voted against the motion and stressed that the emergence of a private entity to fund half a major arena is "unprecedented in Canada" and the city should continue pursuing the opportunity.
He said if council had rescinded the cost-sharing agreement, he doubted Remington would return for more negotiations.
Councillors expected a tight vote, with most remaining firm in their past positions. However Councillor Logan Kanapathi appeared to waver from earlier support for the motion and became the crucial swing vote against it.
The issue has dominated Markham's politics for months. Tuesday's debate and critical vote spilled into Wednesday as council heard presentations from about 60 people during the marathon session.
Speakers ranged from residents, ratepayer associations, retirees, business owners and even a sports lawyer from Boston.
Supporters said the project would be a big boost for the local economy and council should press ahead. Opponents described it as a looming "white elephant" that would burden taxpayers for years.
In one tense moment, resident Annette Cacorovski said she would love the project under private ownership. Then she stared at Scarpitti and emphasized: "I will not spend one dime of my money on this project."
The financial framework proposes that the city borrow $325 million and Remington would pay back half over 20 years. The city would raise its half through development fees on builders and ticket surcharges.
Other terms call for the city to own the building but the developer would cover any construction cost overruns and operate it.
In a worst-case scenario of no local growth, homeowners would face small gradual increases in their tax bills annually to a peak of $160 in the fifth year, according to city estimates.
Scarpitti also revealed for the first time at the meeting that U.S.-based Global Spectrum, the proposed arena operator, has confirmed it will cover any operating losses. The possibility of continuing losses has concerned residents. Several businessmen touted the arena and the arrangement as a "once in a lifetime" opportunity that the city should not turn down. Some of them urged council to continue its work on the project regardless of the vote's outcome.
Among the speakers, Boston lawyer Paul Kelly, former executive director of the National Hockey League Players Association, appeared in support of the project and the funding arrangement. He said the project represents "the GTA's best shot" to get an NHL franchise.
"It is true that if you build it, they will come," he said.
But Marilyn Ginsburg, who represents the Grandview Area Residents Association, countered that argument by quoting industry studies, including one that concluded: "If you build it, they might not come."
NHL commissioner Gary Bettman has also stressed that an arena won't guarantee a franchise.
Ginsburg added the city has not addressed other risks for taxpayers and pointed to the experience of Glendale, Ariz., where residents are paying millions of dollars annually for their arena, the home of the financially struggling Phoenix Coyotes.
Several residents noted they support an arena but not the idea of using public money because those funds should be spent on more important services such as transit and parks.
Retiree Samir Sa'd encouraged council to end the arrangement but pursue the project with a more careful approach.
Karen Rea, president of the Markham Village City Ratepayers Association, questioned a lack of transparency on the project, pointing to the city's refusal to release reports about the arena's economic viability.
Rea and other residents said if the project is so attractive, private investors should be lining up but no one has stepped up.
She also took a swipe at Graeme Roustan, the head of GTA Sports and Entertainment, who has faced criticism from previous partners in other business ventures. Roustan is also appealing a Texas court decision that found he committed statutory fraud in a rink deal.
"Where do your loyalties lie," Rea asked council, "with Mr. Roustan or the taxpayers of Markham?"
Roustan has insisted the arena doesn't need an NHL team and will be viable with events for 130 days and several hundred thousand patrons annually, but some councillors have questioned whether that is possible.
Councillors Colin Campbell, who moved the motion to end the cost-sharing arrangement, and Jim Jones said they had concerns about exposing taxpayers without an NHL team. Other cities such as Quebec City would be ahead of Markham for an existing or new franchise, they said.
"I'm not opposed to risk," added Campbell. "But I would like to just step back."
Councillor Valerie Burke said the city has far more important priorities, such as infrastructure work, and noted that many major arenas have been financially unsuccessful.
Council also rejected a motion to defer site-plan approval for the arena until the city completes a secondary plan for the downtown area just east of the project, which could entail significant elements of the Markham Live vision.
That ambitious plan contemplates the creation of a world-class destination, including high-end retail and office space, top-notch hotels, condominiums, a convention centre, and sports venues such as the arena and an international athletic training facility.
Source: Toronto Star