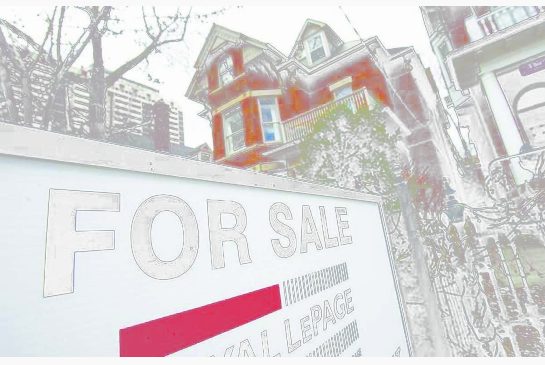 The average price of a house in the GTA hit a record $542,174 in May.
Toronto's housing market continues to defy the odds, with prices up an average of 5.4 per cent in May, year over year, despite cool, wet weather that has put a bit of a damper on the spring buying and selling.
The average price of a house in the GTA hit a record $542,174, up from $514,567 in May of 2012, according to May sales figures released Wednesday by the Toronto Real Estate Board.
Even condos saw price gains of 1.2 per cent in the City of Toronto — and just under one per cent in the 905 region. The number of condos sold in the GTA fell 9.3 per cent last month compared to May 2012, but for the first time in months, that figure wasn't in the double digits.
There are no signs of a bursting bubble. In fact, indications are that the condo market is "rebalanced," says condo market research firm Urbanation, as developers have held back on new projects and first-time buyers seemed to be out looking again in May.
The average price of a condo in the City of Toronto rose to $372,768 in May and $293,398 in the 905 region, according to TREB.
But "the market will be tested" in 2014 and 2015 when condos that have sold over the last couple of years begin construction or start flooding into the market, said Benjamin Tal, deputy chief economist for CIBC World Markets, which could help drive down prices as well as record-high rents.
Even building permits are pointing to surprising signs of renewed life in the housing sector where starts have been dropping since last fall: Some $7 billion worth of building permits were issued by Canadian municipalities in April, up 10.5 per cent from March.
Analysts had been anticipating a four per cent decline. The increase was mainly because of condominium construction in Ontario, British Columbia and Quebec, according to Statistics Canada. It the second-highest month for condo permits ever, noted Ben Rabidoux, a housing analyst with M. Hanson Advisors.
While GTA home sales remain soft overall, except for detached houses in the City of Toronto where transactions and prices were both up three per cent year over year, "the sales picture in the GTA has improved markedly over the past two months," said TREB president Ann Hannah in a statement.
The MLS Composite Benchmark price — an average of home sales with extremes averaged out — was up by 2.8 per cent year over year-benchmark.
The GTA remains on track to see price growth, overall for 2013, of 3.5 per cent, said Jason Mercer, TREB's senior manager of market analysis.
Toronto remains plagued by a shortage of inventory, with demand far outstripping supply, accounting for much of the price growth. While demand for houses remains strong, new listings just aren't growing and realtors say some sellers are holding off listing in hopes prices will take off again.
The average days on market was up slightly year over year, to 23 days last month compared to 21 days a year ago.
The average price of detached homes averaged $676,797 in May, up 5.5 per cent in the 416 region to $864,536 and $602,576 in the 905 region, according to TREB.
Semi-detached homes were up 4.1 per cent to an average $496,120 across the GTA with the biggest growth in the 416 region where average prices were up almost 8 per cent to $633,625 compared to $409,632, a 2.3 per increase, in the 905 regions.
Townhouse sales saw the biggest decline in sales next to condos, with transactions down 7.3 per cent across the GTA. Average prices, however, came in just under $400,000.
The average townhome sold for $463,772 in the 416 region, up .2 per cent year over year, while prices in the 905 region hit $375,576, up 4.4 per cent over last May.
Source: Toronto Star