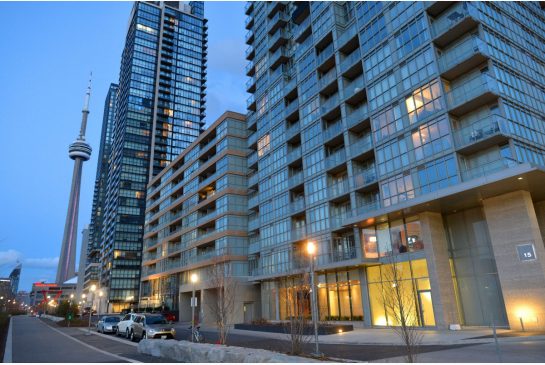 Condo leasing up 31 per cent in wake of tighter mortgage lending rules, new study finds.
Would-be first-time homebuyers are fuelling such unprecedented demand for rental condos across the GTA that demand far outstrips supply, with average rents surging to a record $1,856 per month, says a new report by condo research firm Urbanation.
Since mortgage lending rules were tightened last July, pushing many first-time buyers to the sidelines, demand for rental condos has skyrocketed, says the report released Tuesday. The number of condos leased via the MLS jumped 31 per cent in the first quarter of 2013 over the same period a year earlier.
Rents have climbed 10 per cent just in the last two years, the report notes, after a decade of largely flat or minimal increases.
"For the first time in a long time, we're seeing rent levels grow stronger than resale and new condo prices," says Shaun Hildebrand, senior vice president of Urbanation and a former market analyst with the Canada Mortgage and Housing Corporation, who has watched the rental market closely for years.
"What we're seeing is investors who are recognizing that the real strength in the market is on the rental side right now, not the resale side," says Hildebrand.
Units listed for rent on the MLS grew 19 per cent in the first quarter, year over year, as investors opted to rent rather than sell units into a market where sales have seen double-digit declines and prices have flattened since last summer.
That high rental demand has had the unintended effect of stabilizing a condo market that many housing watchers, including Finance Minister Jim Flaherty, had feared it was a bubble just waiting to burst.
In fact, strong demand for rental condos has contributed to bidding wars for units, especially in the downtown core, although competition is expected to ease — and rent increases are expected to stabilize, though not likely fall — as tens of thousands of new condo units come on stream over the next three years, says Hildebrand.
The fact that rents have now reached record levels — with the average index rent now about $2.33 per square foot — means more would-be buyers are also likely to start scouring the resale market again, realizing that their rents will cover the better part of mortgage payments and maintenance fees, noted Hildebrand.
Source: Toronto Star